Newsletter (E-mailing)
The client can send a commercial message or offer goods or services through an e-mail newsletter.
SNOW has an actively updated client database. Generally, these are subscribers to one of SNOW magazines, registered users of SNOWmedia.cz network portals or readers registered at Skipas-zdarma.cz and Skipasomat.cz.
SNOW regularly informs its clients about their products in the form of an e-mail message (especially about new magazine releases or news on the web). Within this newsletter, you can purchase a promotional area in its header (upper position) or footer (lower position).
Regular newsletters are usually sent at the time of each SNOW issue – see the printed advertisement pricelist.
Extraordinary exclusive newsletters are sent on demand and contain only one advertising space. It can be timed exactly according to the client's wishes.
E-mailing terms:
Price: the price is derived from the current number of active recipients (newsletter is sent by default to the full number of addresses in the database)
Data for e-maling (text, links, photo): min. 1 week before sending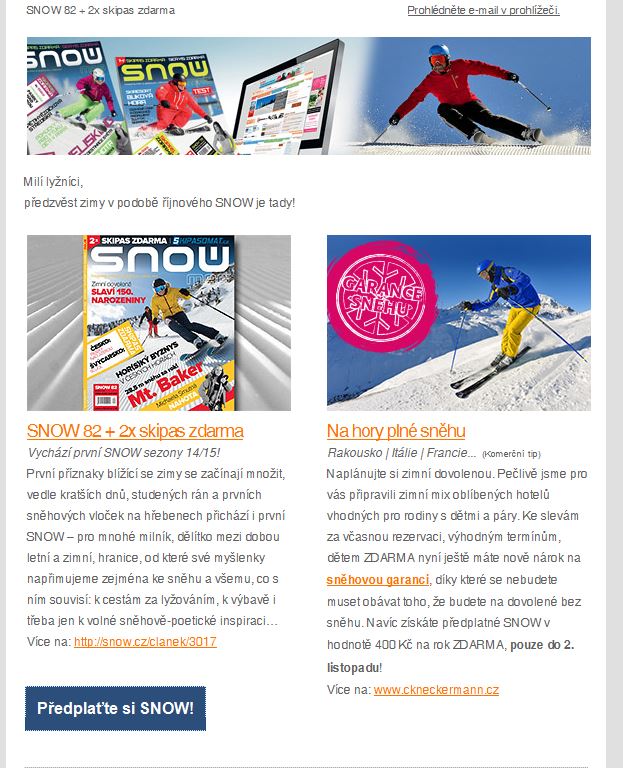 Competition
The competition is an attractive form of addressing potential customers that combines a PR article with the possibility of winning prizes.
The competition form will be compiled according to the client's requirements (questions can help you get interesting marketing data and get participants to think about the brand). At the end of the contest, the participating database becomes your property as well. The winner will determine the most accurate answer to the tipping question so that the competition is in line with the lottery law.
Competition terms:
– The complete technical implementation of the competition is provided by the portal operator
– the organizer of the contest is the sponsor
– the competition runs for 14 days (unless otherwise agreed with the partner) and is available in the section Competitions
– The complete implementation of the competition includes the processing of questions and answers, the use of the web space, the processing and provision of marketing data of the participants to the competition by the contracting authority
– the prizes are awarded by the contracting authority
– Unless otherwise agreed, prizes are sent to the participants by the sponsor
PR article (advertorial)
The PR article is an effective form of promotion. By publishing a PR article, you have the opportunity to draw attention to a specific product or service in a non-violent, readable manner. The value of the article is also building up thematic backlinks that are an important part of SEO (search engine optimization) activities.
The PR article is generally very similar to other articles on that portal, but it also includes contact with the company providing the service or product, including links to the client's website. Photos can be placed in the article, embedded video player. The length of the article is not limited.
PR articles terms:
– graphical preparation of PR articles based on the materials (texts, images, logos) provided by the advertiser is provided by the portal operator
– For a 7-day period, a link to the PR  will lead from the main page of the portal, the arcticle will be accessible throughout the article section continuously
– articles on portals remain for at least 1 year
– the capacity for PR articles is limited – within one week, up to 6 PR articles can be published on one portal